Ahhhhh El Nido…I can't help but to hum "Moby's Porcelain" song in my head every time I think about this magnificent place. The place is teeming with breathtaking lagoons, limestone formations and white sand beaches. Palawan was recently voted as the best island in the world according to Conde Nast Traveler Magazine so more and more people are eager to visit the place, especially El Nido. To my surprise, there were even more foreigners compared to locals during my visit this summer.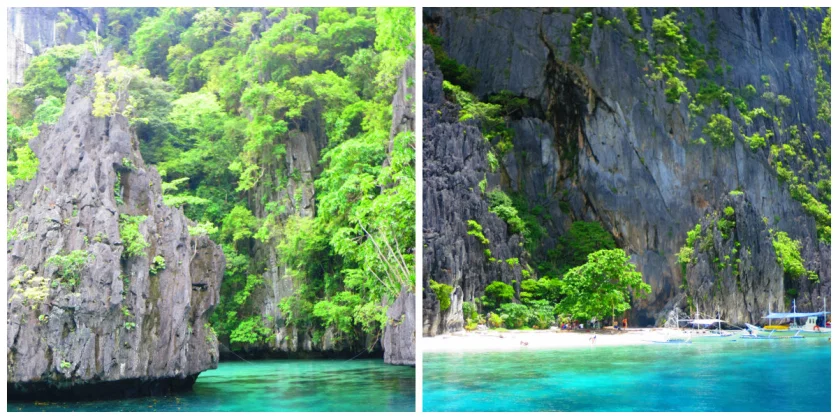 I fell in love with El Nido during my first visit in August of 2013 with Tanya and we even went during the wet season but still loved it. I decided to come here once again together with my boyfriend for my birthday this year. It was my best birthday yet! We were blessed with perfect weather and beautiful, calm waters. Though I lost my phone along the way (err long story), the important thing is that the honest and helpful people of Palawan helped me find my phone. I would like to thank the people of Halfway Restaurant in Roxas, Palawan especially to Dondon for bringing my phone all the way to Puerto Princesa Airport. I can't thank you enough. 😀
A common misconception is that El Nido is very expensive, but that's not true. El Nido does have some high-end resorts but it also has a lot of budget accommodations and cheap restaurants to choose from which I'll be happy to share the details with you in this post, so keep reading!
GETTING THERE
By Air.  ITI(Island Transvoyager, Inc.) is the only airline that flies direct from Manila to El Nido and is  the fastest way to get there. The flight takes about 1 hour and lands directly at Lio airport, located about 4 kilometers from El Nido town. This is also the most expensive option. Last time I checked it was P6,750 each person, one way. For flight inquiries you can email [email protected].
The more popular route and the cheaper option is to fly to Palawan's city capital of Puerto Princesa and take a van/bus going to El Nido for roughly 5-6 hours at P600 one way. Cebu Pacific, Philippine Airlines and AirAsia have daily flights to Puerto Princesa. For van/bus going to El Nido, there are a number of operators in Puerto Princesa and it is more convenient to ask around once you are there.
By Sea. San Nicolas Lines has ferry services from Manila to El Nido and back. Travel time is 30 hours and the fare costs Php 910 for a one-way trip. This is an option if you are not strapped for time and if you enjoy long ferry rides. I recommend watching out for seat sales from the airlines as this can be a cheaper and faster alternative to get to Puerto Princesa. Last August 2013, we bought or round trip ticket from for 500 pesos!
WHERE TO STAY
Rossana's Pension House – Stay here if you're not on a super tight budget and if you are looking for a beach front view. Location is central and very easy to find. We booked the beach front view with balcony and it was so beautiful to wake up each morning with that view. You can even have your breakfast served in the balcony if you wish. The staff were very friendly and helpful with our needs. They helped us with all the bookings without charging any additional fee. We booked through Agoda and payed Php 2,900/night, for a private room with T&B and AC. Their rates vary from time to time so it's best to contact them ahead of time.
BUDGET : El Nido Plaza Inn –  Tanya and I stayed here last August 2013 and we only payed Php500 for 3 people! This was during the low season so cheap accommodations were very easy to find. The fan room is very basic and is made of bamboo. Shared toilet and bath was not too great but location is very central. If you don't mind roughing it out a bit, then this is one of the cheapest places to stay in El Nido.
WHAT TO DO
Explore the islands
This is one of the best ways to meet new friends as you share the tour with several people. The tour rates are standardized in El Nido and it starts at 9AM to 4PM so it basically eats up your whole day. Lunch (which is superb!) is also included in the package. There are 4 tours to choose from and we chose Tours A & C as these two were highly recommended.
TOUR A: P1,200/pax Beaches and Lagoons – Includes Secret lagoon, Small lagoon, Shimizu Island, Big lagoon and Seven Commandos.
TOUR C: P1,400/pax Hidden beaches and Shrines – Includes Helicopter Island, Matinloc Shrine, Hidden beach, Star beach and Tapiutan island.
Unfortunately, we were not able to do TOUR B (P1,300/pax) which includes exploring caves and coves and TOUR D (P1200/pax) for island beaches.
You can also choose to be dropped off on the island and spend the day there and set a specific pick up time. Price varies on which island you prefer to go.
TIP!!!   Make sure to confirm your booking. Our tour operator made a mistake. They thought we chose Tour B instead of C which resulted to a lot of confusion and delay. It is also best to bring your own snorkeling gear instead of renting. Rentals are Php100 each person.
Rent a motorbike and explore
Motorbike rentals are at P500 a day with gas. Get your bike and then drive to:
Marimegmeg Beach – A few kilometers away from the El Nido town, it's best to catch the sunset here while downing your favorite drink. Most people go here after spending the day in Nacpan beach.
Nacpan Beach –  Don't miss the beautiful Nacpan beach, a 40-minute motorbike ride from El Nido town. I love this place as it was very quiet compared to the bustling El Nido Town and definitely has a back-to-basics, small town feel to it. You may choose to stay here overnight as they have several resorts to choose from. Be prepared to wait if you decide to have lunch. Time is slow here, so sit back and relax. Food takes roughly an hour to be served. Meal starts at Php150. Be careful when swimming though as the current is quite strong even during the summer months.
Ziplining
If you get bored of swimming and laying on the beach, El Nido also has something to offer for the adrenaline seeker. Ziplining is also located in Marimegmeg beach and costs Php500 one way. Too bad we weren't able to do it when we were there they due to maintenance activity.
climb Mt. Taraw
A climb to Mt. Taraw is something you should not miss as you get a panoramic view of El Nido and the surrounding islands. To be honest, it was a very scary climb for me because the rocks were very sharp and the ascent was very steep. Be sure to hire a guide (Php500) and go as early as you can. We started our climb at 9AM but the best time to go is around sunrise for it gets really hot late in the morning. Make sure to use gloves to protect your hands and for a steadier grip.
Where to Eat
L'assiette – My French boyfriend was bugging me to try French food with him. There's a lot of French restaurants in El Nido and we decided to check out this new joint for my pre-birthday dinner and we're so glad we picked this place. The Mushroom Risotto and Bavette Steak were delectable. The beef was very tender and the serving is good for sharing. Food is a bit pricey though but definitely worth every penny.
Lonesome Carabao Lounge Restaurant – Conveniently located across our hotel, this place serves good Mexican food with excellent portions. We couldn't finish everything because it was too much so make sure to share it with someone. Best to try their burritos!
Altrove – I always go back to this mouthwatering wood fired pizza joint. Tanya and I also visited this joint in their newly opened branch in Coron last April. They serve delicious Italian food and the interior has a nice romantic feel to it.
ArtCafe – This is one of the oldest and most popular restaurants in El Nido. We tried the pasta and it's also good for sharing. A bit overrated though because I find the food to be just okay.
Aplaya Restobar – Good beachfront view and grilled food. The only thing I didn't like is that it took a long time for our food to be served.
TIP!!! There are many cheap eats aside from the restaurants I mentioned. You can always eat in local eateries or carinderias if you're on a tight budget and there's always the barbeque stand for a quick chow.
EL NIDO NIGHTLIFE
Predominantly, El Nido is a quiet place and you won't find loud thumping parties here like in Boracay. But if you want to check out the nightlife, there are a few joints open by the beach that serve alcohol. One of these places is Pukka Bar, it gets really packed at night and they play live reggae music. My boyfriend lost his bag there and luckily it was still there when we returned the next morning! Hooray!
On the whole, El Nido is one of my top favorite places here in the Philippines. Some people say that it is already touristy and is slowly becoming like Boracay. Yes, there has definitely been an increase in the number of tourists that come to El Nido recently but still it is leaps and bounds from the mega touristy Boracay. Even if El Nido Town can get pretty busy at times, it still has that small town charm to it. Furthermore, you can still find your own adventure in one of the many islands there. The lagoons and beaches that they have are unbeatable. Most of all, the people, their generosity, honesty and concern for their surroundings is what makes this place even more special. I know I will always come back for more. So what are you waiting for? Go book that flight and visit El Nido soon! It wasn't named as the best island in the world for nothing, right?