Mandalay is the old capital of Myanmar and is located in the central part of the country. It is the second largest city in Myanmar. Also, this was our first stop in our Myanmar trip.
Where To Stay
Places To Eat
Places to See
WHERE TO STAY
We stayed in Royal Guest House on 25th street for 30USD a night for three people.  No need to rent a tuktuk if you are taking the AirAsia airport shuttle. The drop-off point is just a few minutes from the hostel. This was the best hostel we had throughout our stay in Myanmar. Our room was equipped with an A/C, fridge and private bath with hot and cold shower. Breakfast is included but don't expect to be wowed as the standard free breakfast in Myanmar consists of an egg, sweet toast, juice/coffee and fruit. Believe me, you would rather have that than the one we had in Kalaw (blog post soon). Wifi is free in the lobby but as usual don't expect anything high speed because the internet connection everywhere in Myanmar is super slow.
PLACES TO EAT (nearby Royal Guest House)
Note: Food servings in Myanmar are usually big. We recommend that you split the food as what we did. Asian appetite 😉
Lashio Lay Restaurant – This was recommended by our guide, now good friend, a local named Aung. Located on 23rd street, this has been featured in Lonely Planet many times and they are famous for Shan food. This is one of the cheapest eats in Mandalay where food starts at 1,500 KYAT ($1.50/Php65) with unlimited servings of rice and a variety of side dishes.
Nylon Ice Cream – Yummy cold treats to beat the heat at a cheap price. Starts at 500 KYAT.
Mann Restaurant – This restaurant closes late and serves good Chinese food and local food and is also a backpacker favorite. Meals start at 1,500 KYAT. Warning! The spring roll is a huge serving so better share it with someone.
TIP!!!
Based on stories from other travelers that we met, a lot of people have gotten sick while traveling in Myanmar. So make sure you only drink bottled water or water that has been boiled. Better be safe and healthy while traveling. 🙂
PLACES TO SEE
MANDALAY HILL
A major highlight in Mandalay, it's a 350-meter long, hot and barefoot climb so better stock up on water and energy. We got a good deal from Aung for 10,000 KYAT with a private car and A/C back and forth for 4 people. This was a very good deal as we took our time exploring the place and spent 6 hours there. The path is surrounded with souvenir shops, cold drink stalls and astrologers. Go all the way to the top and you will be rewarded with a scenic view of the whole city of Mandalay and its nearby areas. Take note that there is a camera charge for 1,000 KYAT for foreigners. This is a great place to do "monk chat" as the monks in this country are very friendly. We made a good friend out of Wija, a young monk who was very eager to learn English while carrying his Burmese Days book. He showed us around Mandalay Hill and gave us a brief history of the area.
Our friend Wija who showed us around Mandalay Hill
ZAY CHO MARKET
This is Mandalay's biggest local market where you can find all sorts of souvenirs and cheap longyi (traditional sheet of cloth widely worn in Myanmar – similar to the Filipino malong).
*Too bad we didn't get to explore Mandalay Palace and the nearby temples due to lack of time.
AROUND MANDALAY
Our second day in Mandalay was spent exploring the four ancient cities nearby. We payed 9,000 KYAT each for 6 people with a private car for a whole day tour. Definitely worth it as we started at 8AM and ended at 8PM. You may contact Aung, a Mandalay local at 27747522 or 0933167125 for guided tours.
Mahamuni Paya – This is considered as a major pilgrimage site for the Burmese as it is seen as an expression of Buddha's life. This is the first temple we went to where men can put gold leaves to Buddha which made me sad cause I found it sexist that only men are allowed to do so.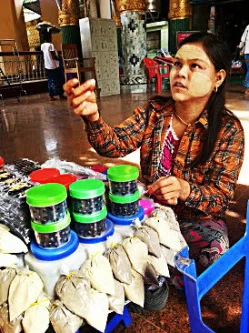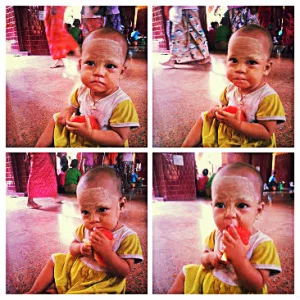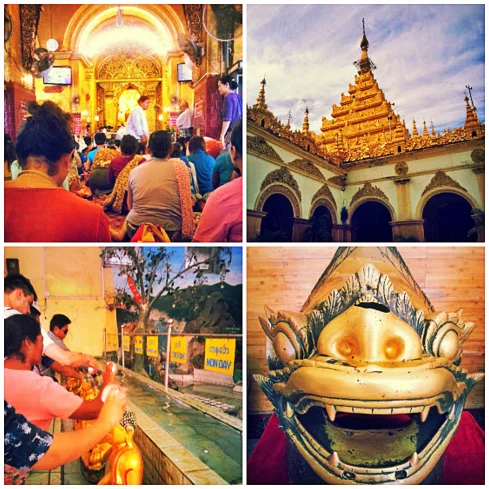 Marble Buddha Factory – Located just in front of Mahamuni Paya, this is where you can see the very talented craftsmen sculpt the buddhas from marble.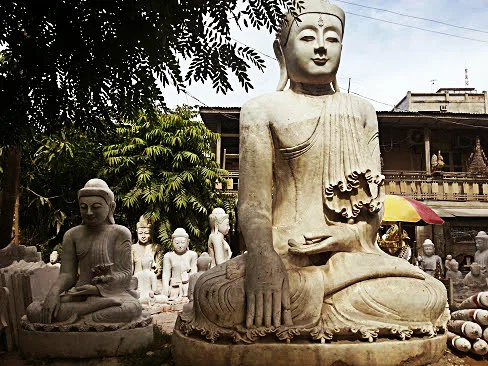 Marionette factory and traditional wear – This was one of the places where our guide took us. It's a good place to buy marionette souvenirs as this is a popular art form in Myanmar. Not recommended for long term travelers though, as you wouldn't want to be carrying it around along the way.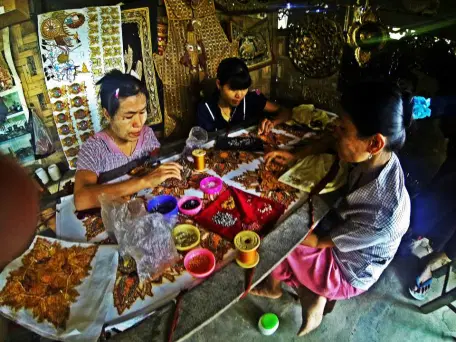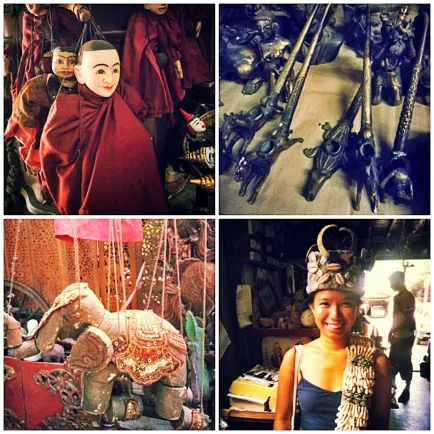 Longgyi Silk Factory – See how the local weavers create longyi, the Burmese traditional wear.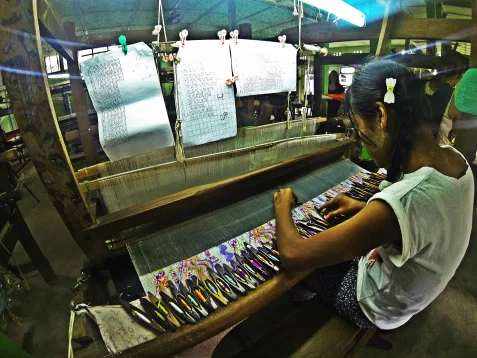 Mahagandayon Monastery
The place to see the march of the monks during their meal time. We didn't know that there would be hordes of tourists there and we felt quite ashamed for taking part because it somewhat felt like a circus. Some tourists were very insensitive by disregarding the house rules so it's best to go there during downtime. We waited for the crowd to disperse and luckily we were able to converse with some monks along the way.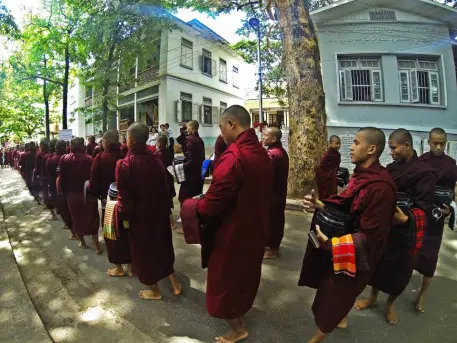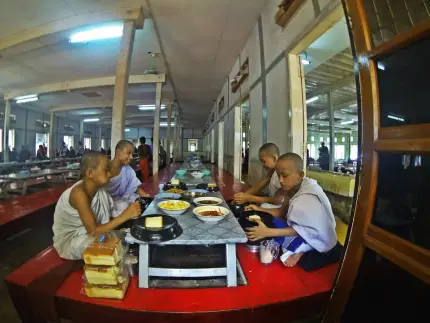 ANCIENT CITIES SURROUNDING MANDALAY
INWA
We rode a boat going here as this is located across the river from our lunch stop. Inwa served as the Burmese capital for nearly four centuries so you could see a lot of ancient temples here. Admission is 10,000KYAT and they give you a stub which serves as entry for all the ancient temples in the surrounding areas. Horse carts are available for rent at 4,000KYAT each for a 3-hour loop. Ours lasted for 4 hours without extra cost.  😉 You may choose to walk but this is torture under the blistering heat and the temples are far away from each other.
SAGAING HILL
This is quite a hike, definitely more challenging than Mandalay Hill, as this is just one-way straight up; however, you will be rewarded with a view of numerous stupas and monasteries. Sagaing Hill is not to be missed.
AMARAPURA
Amarapura is famed for its 1.2KM long teak U-Bein Bridge and this was our last stop where we went to see the sunset. Sadly, it was too cloudy that day. You will see lots of locals and tourists here during sunset and it's a great way to meet locals and monks. We met one monk named Uott Ta Ma who kindly invited us to visit his monastery, Moe Goke Yeiktha. Too bad we didn't have enough time though. There is an option to ride the boat and paddle throughout the lake or just pass the time at the beachfront restaurants. This is a good place to buy longgyi as well. Surprisingly, they have the cheapest price we found and it's ready to wear!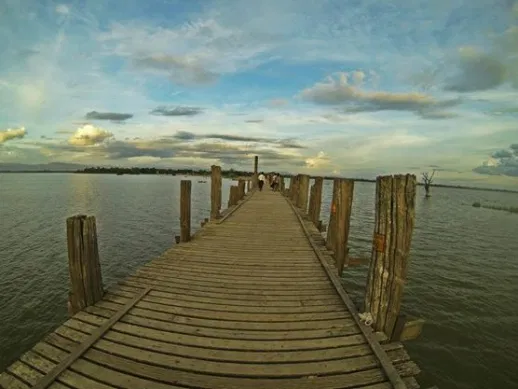 We spent two and a half days in Mandalay and we enjoyed our stay despite the horrid stories that we heard from other travelers. I guess it's really all about the people you meet and the people you're with that makes an experience worthwile. Watch out for our upcoming story about the ancient city of Bagan. 🙂